Facial hair wasn't quite as prominent in the 80's as it was in the 60's and 70's. However, what facial hair there was in the 80's was used to maximum potential in getting the owner noticed.
Now sit back and get ready to take a ride on the musta... er.....uh.....I mean just sit back and lets count this thing down. Yeah that's what I meant to say. Enjoy!
#10
Ted Lange
A cruise on the Love Boat just would never have been the same if Isaac Washington (Lange) wasn't standing behind the bar, smiling and serving you up shot of tequila after shot of tequila. Thanks Isaac for all the good times and the need for a liver transplant.
#9
Jon Cryer
Ducky from Pretty in Pink with a beard and mustache? No way! Yep, it sure was, and that is why Jon Cryer has made this list.
It was so shocking to see the Duck Man with a full beard and mustache in the movie Hiding Out. Luckily, we didn't have to see it for too long, due to him shaving it off early in the film, or else we would have went on sensory overload.
#8
John Oates
Mr. Oates was most definitely rocking out that big mustache throughout the 80's. When he shaved it off in the 90's, he was difficult to recognize. I say Oates should grow it back in all it's glory and never shave it off again.
#7
Freddie Mercury
Here was another thick soup strainer in the 80's. Freddie Mercury was able to pull off wearing this mustache pretty much through the entire decade, even though a mustache of this magnitude was more a fad of the 60's and 70's.
#6
Hulk Hogan
"Thunder Lips.....In the flesh, baby!!!" And with those words the legend of Hulk Hogan and his trusty mustache was born.
Rocky III was the first time I had ever seen Hulk Hogan, but he left a lasting impression. He was so much bigger than Stallone and just downright scary looking with that menacing mustache.
#5
Sam Elliott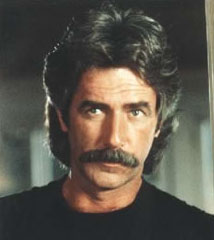 Plain and simply, one of the greatest mustaches to ever grace the motion picture screen. The great thing about Elliott is that his mustache has only gotten bigger and better as time has went on.
#4
William Lee Golden
Many won't recognize the name, but you surely should recognize the beard. Golden's beard was on full display in the 80's as the Oak Ridge Boys hit #1 with the hugely popular song Elvira.
#3
ZZ Top
ZZ Top gave you double the hair with their crazy long beards in the 80's. Looks as though the guy in the middle should have been fired and they should have brought in William Lee Golden, up above, to take his place. Would have been a trio made in follicle heaven.
#2
Tom Selleck
Tom Selleck had the king of all mustaches in the 80's. It's pretty hard not to hear the name Tom Selleck or Magnum P.I. without immediately thinking about that huge mustache.
#1
George Michael
George Michael is #1 here for the simple reason of how influential that shadow of a beard was in the 80's. If you were a teenage boy or a fully grown man you was looking to ride the coattails of George Michael by growing your own version of the wildly popular 5 o'clock shadow. We all grew it to help us get the chicks. Come to find out, Georgie boy was after the exact opposite. Man, what a waste. George Michael could of had any woman he wanted back in the day.
Well there you have it, my Top 10 Best Use of Facial Hair in the 80's. I hope you enjoyed. If you disagree with my list or if you have any suggestions for a future top 10 list, please leave it in the comment section below.
I'll be typin' at ya later,
Bob the Blogger