This list is comprised of people who were famous in the 80's. It is not a list of people who died in the '80's. The only rules I had for this list was they had to be famous in the '80's and been under the age of 40 when they passed away.
Even though I have them ranked, this was not a competition. I merely ranked them on a combination of fame, shock of their death and personal preference.
I'm sure there are other's who I have missed, but be reminded I had only 10 positions to fill. If there is someone I grossly overlooked, please leave it in the comments, because I'm sure there will be. I compiled this list mainly from recollection and not a tremendous amount of research.
Honorable Mention
Princess Diana
July 1, 1961 - August 31, 1997
I know I only said I had 10 spots to fill, but I had to put Princess Di on this list. She wasn't in the entertainment business, but there is no doubt she was a celebrity, whether she liked it or not.
Only 36 years old when she died of injuries sustained in a car accident in Paris, Diana was not just England's princess, but the whole world's. She was tremendously giving of her time to charities throughout the world and for that she has been sorely missed.
#10
Jon-Erik Hexum
November 5, 1957 - October 18, 1984
Many of you may not know or remember Jon-Erik Hexum. I, myself, can really only recall seeing him on television a few times when I was young, but his death was so impressionable because of the tragedy of it.
Hexum was a rising Hollywood star who had starred in the television series Voyagers! and was the star of a new series called Cover Up at the time of his death. His future seemed to be very bright.
The tragedy of Hexum's death occurred on the set of Cover Up when, in between shooting scenes, he placed a prop gun filled with blanks against his temple and pulled the trigger, not knowing blanks can also be deadly when shot at such close range.
#9
Heather O'Rourke
December 27, 1975 - February 1, 1988
Most of you will remember Heather O'Rourke as the little girl in the Poltergeist movies. Who could ever forget that haunting image of her in front of a fuzzed out tv saying "They're heeere"?
In 1987 Heather started becoming ill with pain in her abdomen and trouble keeping food down. She was taken to see a doctor and was told she had Crohn's Disease. Unfortunately, this was a misdiagnosis and in reality the young star had an intestinal blockage.
By late January of '88 she had become extremely ill again and was rushed to the hospital. En route to the hospital she suffered cardiac arrest, was resuscitated and later died at the hospital.
The intestinal blockage had caused septic shock, which in turn caused the cardiac arrest. Terribly tragic. She had her entire life ahead of her.
#8
Dominique Dunne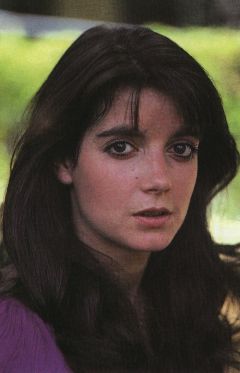 November 23, 1959 -November 4, 1982
Another Poltergeist daughter. Dominique played Heather O'Rourke's older sister in the 1st movie. Her star was definitely on the rise after this breakout role.
Just 5 months after Poltergeist was released, Dunne was tragically strangled to death by an ex-boyfriend whom she refused to reconcile with. She was only 22 at the time of her death.
#7
Rob Pilatus
June 8, 1965 - April 2, 1998
One half of the 80's pop duo Milli Vanilli, Rob struggled with depression and drug and alcohol abuse after the downfall of the lip synching pair.
After several failed suicide attempts, Rob finally overdosed on a deadly cocktail of alcohol and prescription pills at a hotel room in Germany. He was just 32 years old.
#6
Rebecca Schaeffer
November 6, 1967 - July 18, 1989
Rebecca is one of the main reasons Hollywood is so on guard when it comes to stalkers. She was needlessly shot to death standing in the doorway of her home by a lunatic stalker, who had been on her trail for 3 years.
Her career was just beginning to get on a roll after starring in a sitcom called My Sister Sam with Pam Dawber of Mork and Mindy fame. At the time of her death she was preparing for a role in the upcoming Godfather III movie. She was just 21 years of age.
#5
Andy Kaufman
January 17, 1949 - May 16, 1984
Andy was so good at what he done, people actually believed his death was just another elaborate hoax on his part. Unfortunately, this was not the case.
After not being able to kick a persistent cough in late 1983, Andy went to the doctor and was diagnosed with a rare form of lung cancer. After putting up a brave fight he succumbed to the disease at the age of 35.
#4
Dana Plato
November 7, 1964 - May 8, 1999
Another celebrity felled by the lures of drugs and alcohol. Dana was a huge child actor who starred in Diff'rent Strokes through the early 80's. However, her career never really took off after the shows run ended and Dana fell as low as to star in softcore pornography movies.
She was arrested in 1991 for holding up a video store with a pellet gun. She received 5 years probation and things continued to spiral downward. By the time 1999 rolled around she was living in an RV in Florida with a boyfriend.
After an interview with Howard Stern her and her boyfriend were travelling back out to California and stopped in to see his mother in Oklahoma. After visiting for a bit, Plato told them she was going to lie down in the RV and that was the last they seen her alive.
Plato had overdosed on Vicodin and Soma. Her death was officially ruled a suicide.
#3
John Belushi
January 24, 1949 - March 5, 1982
Sadly, another victim of drugs and alcohol. John Belushi was just hitting his prime in 1982 when he overdosed from a deadly combination of heroin and cocaine called a speedball.
With movies, such as Animal House and The Blues Brothers under his belt he was headed for super stardom if he hadn't already achieved it. He was only 33 years old.
#2
Michael Hutchence
January 22, 1960 - November 22, 1997
His name has surfaced quite a bit in the news lately as the details of David Carradine's death emerged. It seems both may have died from a sexual fetish called autoerotic asphyxiation. To spare you the details I will just tell you they were both found hanging by the neck.
Michael Hutchence was the lead singer of INXS, which happens to be one of my personal favorites. He was one of, if not, the best frontman of the 80's. He was 37 at the time of his death.
#1
River Phoenix
August 23, 1970 - October 31, 1993
Here was a former child actor who was still going stronger than ever into his adulthood. His future had no limits. He was already nominated for an Oscar at the young age of 18 for the movie Running on Empty.
Unfortunately he was susceptible to the same vices that took away so many other young talented entertainers. On October 31, 1993 Phoenix collapsed outside a Hollywood nightclub owned by Johnny Depp, called The Viper Room. Phoenix had taken a deadly combination of methamphetamine and opiates called Persian Brown. He could not be resuscitated and sadly died at the age of 23.
All of these deaths were very sad, indeed. But, as you can clearly see, most could have been avoided. It just goes to show you, fortune and fame don't mean everything. I'm sure if those on this list that died of overdoses could come back and talk to everyone, they'd say it's not worth it.
Let it be a good lesson to all of us. Don't do drugs!!!
I'll be typin' at ya later,
Bob the Blogger