This one's for the guys, ladies. That last post had way too much beefcake in it, so I figured I'd post my personal top 20 list of my favorite Ladies of the 80's. This wasn't easy to narrow down. There were so many beautiful women from the decade of high hair and tight jeans. I had compiled a list of approximately 75 women and went from there.
They all deserve to be mentioned, but I had the task of trying to narrow it down to 20. The easiest way for me to do this was to forget about who I thought everyone else out there would want on this list and go with my personal preferences.
This list is made up of 20 ladies for whom at some point in time in the 1980's I was infatuated with. I did not base this list on looks alone, if that had been the case there were others that were just as, if not more, deserving. Instead these are the top 20 women from the 80's for whom I, personally had a thing.
I'm going to give you photos of them from the 80's compared to what they look like now and I will post two separate polls to see which of the 20 has held up the best over time and which has not. Enjoy!
From
Blue Lagoon
to
Endless Love
, Brooke was an icon of the 80's. Who can forget her television commercial where she proudly stated "
Nothing comes between me and my Calvin's
"?
Jami was in several hit 80's movies like
Crossroads
with Ralph Macchio and
Lost Boys
with Keifer Sutherland, Jason Patric, Corey Haim and Corey Feldman. However, it was her role in
Less than Zero
, with Robert Downey Jr. and Andrew McCarthy, that left hearts a fluttering.
By the way, for any teens that may be reading,
Lost Boys
was
Twilight
before
Twilight
was
Twilight
, Jami was Bella before Bella was Bella and Jason Patric was Edward before Edward was Edward. Don't believe me? Check it out if you get the chance.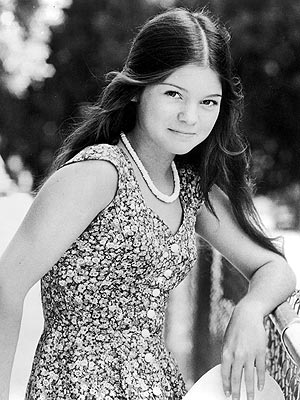 Valerie was one of my first real crushes as the youngest daughter, Barbara, on
One Day at a Time
. I stayed crushed on her until she done the unthinkable and married a long-haired rock and roller. I still say Eddie Van Halen was too ugly for her and I'm glad she finally figured that out and divorced him.
Valerie had gained some weight after having a son with Eddie Van Halen, but recently Jenny Craig has done a body good. Valerie is looking as good as ever now.
Thanks to Mark from
http://dianefranklinfan.blogspot.com/
for providing the Diane Franklin pics. Go visit his blog, he has tons of info on the beautiful Ms. Franklin. Including a great interview. Thanks again Mark.
Oh how I wanted to hate her after watching
Last American Virgin
. And I did, but you can't deny her beauty. Franklin played in other 80's hits such as
Better Off Dead
and
Bill and Ted's Excellent Adventure.
Diane pretty much disappeared after the 80's, but she remains one of my faves. Her image, to this day, pops into my head every time I hear
Just Once
by James Ingram,
Oh No
by the Commodores and
Open Arm
s by Journey.
She was Disney's
Natty Gann
and River Phoenix' love interest in
A Night in the Life of Jimmy Reardon
. But, to me she will always be Lainie from
Dream a Little Dream
. First and only time I ever wanted to be Corey Feldman.
How much did I like Meredith Salenger? Well put it this way, I named my first-born after her. Well, at least after her character, Lainie, in
Dream a Little Dream
. Although, I did change up the spelling a bit by dropping the first i and changing the ie to ey. Laney looks so much better than Lainie, don't ya think?
How hot was Erin Gray? She was so hot,
Buck Rogers
had to travel all the way to the
25th Century
to find a girl so hot. She also played in the television show
Silver Spoons
with a young Rick Schroeder.
What Daisy Duke did for short shorts, Erin Gray done for tight-fitting one piece jump suits.
Tawny was the #1 video vixen of the 80's. The Whitesnake video for
Here I Go Again
was probably the one and only time in human history a man didn't care that a woman was dancing on the hood of his Jaguar with high heels on. What did those hoods ever do to her to make her want to scratch them all up like that?
What some of you guys may not remember was she played, Oscar winning, Tom Hank's leading lady in a pretty funny movie called
Bachelor Party.
Who's the Boss?
Who cared? Millions of teenage boys wasn't watching the show because Tony Danza was such a good actor. Alyssa has been able to sustain her celebrity through the years. I'm sure it has something to do with her ability to also sustain her looks through the years.
Huge star of the 80's and member of the "
Brat Pack
". Most people were ga ga over Molly Ringwald, but to me Molly couldn't hold a candle to Ally. Even the image of her sitting in detention shaking out her dandruff over the top of a winter scene she drew, to create snow, couldn't dissuade me from falling hook, line and sinker for Ms. Sheedy.
Michael J. Fox got all the critics attention on the television series
Family Ties
. Justine Bateman got all the guys attention. Mallory Keaton was the fantasy of many young school boys back in the 80's. Then they had to screw things up by giving her a boyfriend named Nick, played by Scott Valentine. Nick was too dumb to deserve her and her character kind of staled after that.
Even though Justine's career never really took off like that of her younger brother Jason Bateman, she still remains one of the top 80's crushes.
If you could put together the perfect woman from all the best attributes of other women, what do you think she'd look like? Well Gary (Anthony Michael Hall) and Wyatt (Ilan Mitchell-Smith) done exactly that in the 80's classic
Weird Science
and they came up with Kelly Lebrock. And I got to say, they wasn't far off of perfection. Great 80's hair? Check. Absolutely gorgeous face? Check. Smokin' hot hardbody? Check. Sexy European accent? Check. Thick, juicy sensual lips? Check, Check, Check!!! Yes sir, she was the total package.
I do have to call into question her taste in men, though. She was married 9 years to Steven Seagal, before divorcing him in 1997. That's probably just nitpicking, but I couldn't find much else wrong with her back then.
I began crushing on Ms. Ryan back in the early 80's when she played Betsy on
As the World Turns
. After she left the soap opera she made the transition into motion pictures, seamlessly. She made her first big impression on audiences in the 1987 movie
Innerspace
, where she met her future husband Dennis Quaid.
Before long, after starring in a few hit romantic comedies, she became the undisputed America's Sweetheart. She had personality and wit all wrapped up in an undeniably cute package. Then came the downfall when rumors leaked out she was having an affair with Russell Crowe on the set of their movie
Proof of Life
. I can't speak for Dennis Quaid, but I know I felt awful betrayed.
After her fall from grace and ostracization by her adoring fans, she wore the scarlet letter around Hollywood. When she finally attempted a mainstream comeback, she made the bad decision to take the risque' route by appearing totally nude in the universally panned
In the Cut
. I for one choose to always remember the adorable, fresh-faced girl next door she used to be.
Simply stated, one of the most beautiful women to have ever walked God's green earth. Sherilyn was never quite the star she should have been. I think she suffered from actually being too beautiful. She had the world's most beautiful eyes, which was accented by the perfect placement of a mole next to her left eye.
I had always thought if they ever done a remake or a sequel to
Gone with the Wind,
Sherilyn should have been a shoe-in to play Scarlett, the role made famous by Vivien Leigh. When the sequel was finally made for television, some egghead chose Joanne Whaley Kilmer (former wife of Val Kilmer). Needless to say it tanked. Sherilyn, at least, would have given the movie the advantage of having a dead ringer play Leigh's part.
One scene, one red two-piece bikini, one unlatched button. This was all it took to indelibly etch Phoebe Cates into the hearts and minds of the world's entire male population. If she never done another important thing in her life she could rest on the laurels of knowing mankind is better off because she existed.
Phoebe had absolutely flawless skin, perfectly shaped lips and the most amazingly beautiful dark brown eyes. She ended up marrying Kevin Kline, who now looks like he's escorting his daughter to Hollywood premieres.
Al Bundy (Ed O'Neil) was what kept people coming back with his pessimistic view on life. Kelly Bundy (Applegate) is what brought them in to begin with. Applegate was perfectly cast in the role of the, dumb as a box of rocks, daughter who was loose as a goose to her loving father's unbeknownst. Al continued to call her "princess" even though her dalliances were taking place right under his nose.
Applegate was so incredibly sexy we chose to take Al's lead and simply ignore her questionable morals in favor of wishing we could ever have a shot. Keep dreamin'.
While most people were fawning over Tiffany, I was falling head over heals for Debbie Gibson. Not only was she galactically prettier than Tiffany, but she was vastly more talented. While Tiffany was stealing '60's songs and turning them into hits, Debbie was writing all her own songs sitting at a piano by herself. If there were ever any competition between the two there never should have been, because Debbie wins hands down in every category.
After her couple of years of superstardom wore down, Debbie kind of vanished for a decade. When she emerged she had not only changed her hair color, but also started wanting everyone to address her as Deborah Gibson. Hey, I'll call you whatever you want, just as long as I can call you.
Nobody in the history of any profession has redefined themselves more than Madonna. She burst onto the scene in the mid-80's proclaiming herself the "
Boy Toy
" and no one refuted her. She was hyper-ambitious with some talent mixed in and it has more than served her well.
Very early on in her career she was on
American Bandstand
with Dick Clark and he asked her what she wanted out of the future. The ever confident Madonna simply stated "I want to rule the world." Job well done I'd say. She has never been out of style her entire career due to her willingness to flip the script and take on another persona.
I sat in front of the television for hours on end, watching MTV and waiting for Madonna's
Borderline
video. At that year's MTV music awards she came out wearing a white wedding dress, singing
Like a Virgin
while writhing around on the floor. At that moment she took over the world and you could sense that she knew it.
Was there anything Madonna couldn't do? Well yes actually, there was. She couldn't act her way out of a wet paper bag. She has tried, unsuccessfully, to kick start her acting career on several different occasions. Nothing has worked so far and about the only thing I can stand watching her in is
Desperately Seeking Susan
.
Lately, she has begun to look a bit rough around the edges, but for God's sake give her a break, she's now 50 years old. We should all look so good at 50.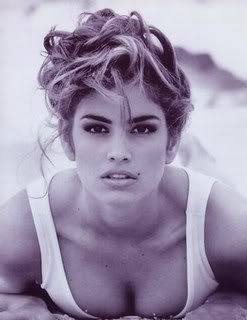 Seemed as though she was perfect in every way. The mole was just icing on the cake. I'm not alone in thinking she was one of the most gorgeous women to have ever lived. She was just absolutely stunningly beautiful. Any time I laid eyes on her I found it hard to turn away.
I did say in the first sentence that she "seemed" as if she were perfect. But, like many others on this list she had poor taste in men. When they first married, her and Richard Gere, seemed like a good match, but they divorced after about 4 years of marriage. That's about the only chink in her armor I can find. She's still as beautiful as ever.
Never in the history of the universe has one fleeting moment been so sexy as when Susanna Hoffs glances off to her right while singing
Walk Like an Egyptian
. There should be a name for that exact second in time when she grabbed hold of the fantasies of every living, breathing male on the face of the earth. I think I will name it now. I'm going to call it "
The Side-Ways Glance
". I know, not very inventive. It doesn't need to be though. A picture's worth a thousand words and millions of hearts captured.
Susanna had several big hits with the Bangles, who will go down as one of the greatest girl bands in history. I never seen her look bad throughout the 80's, but it was this video and this moment that made her mark on history. Remember "You had me at hello."? Huh uh, doesn't apply here. More like "You had me at
Side-Ways Glance.
" Thanks Susanna for being able to move your eyes to the right. I will forever be in your debt.
And now for my all-time favorite lady from the 80's. Drum roll please...
Wait for it...
Wait for it...
Are you ready?
Isn't she beautiful? I was completely head over heals for this gal. She was the total package. As you can tell by the majority of the other ladies on my list, I seemed to be drawn by dark hair and dark features. She had them both. She had the way too high, teased up hair. Beautiful face. Great body. She had the bubblegum pop personality to go with the appearence.
On top of all of this, she liked me back. So what did I do? I married her, of course. And what, if any, faults did she have, you may ask? Well, like so many other ladies on this list, she had poor taste in men. Thanks, honey, for putting up with me for coming up on 20 years. You deserve a medal.
Love ya!!!
I think I deserve a few get out of jail free cards for this one. Don't ya's think?
I'll be typing at ya later,
Bob the Blogger