These people had to be talented to make it in the music business, because they did not look like your typical music artists. This list is full of people who looked as if they had a different occupation than that of a music star. Enjoy!
Your strange junior high science teacher, perhaps. Your hit making 80's music artist, no way.
Thomas Dolby, despite his nerdy looks, had a smash hit record in 1982. However, that hit record was about something nerdy.....science. Dolby scored a #5 hit with She Blinded Me With Science.
The new stand-up comedy sensation, maybe. The man who had hit after hit as a solo artist and as lead singer/drummer for Genesis, never.
Phil Collins used his comedic looks brilliantly in quite a few of his videos. He also parlayed that comedic flair into a minor acting career.
The new and latest actor to take on the role of 007, yeah I can see that. The very strange Amadeus wig-wearing Austrian crossover music sensation, are you kidding?
Falco had two gigantic hits in the 80's with 1981's Der Kommissar and 1985's Rock Me Amadeus. Sadly, Falco isn't with us anymore. He was killed in an automobile accident in 1998 at the age of 40.
The fresh out of high school kid bagging your groceries, absolutely. The critically acclaimed cult figure of 80's musicians, yeah right.
Elvis Costello never had major hit singles in the U.S., but he sold a lot of records and had a huge following.
Stunt double for Hollywood actor Michael Berryman (pictured below), he's hired. Lead singer of Australian crossover group Midnight Oil, need not apply.
Peter Garrett fronted the Australian politically themed band Midnight Oil. They had a top 10 hit single with Beds Are Burning in 1987. Peter is now an elected Australian politician.
Lead villain in the new straight to video B-movie Horror film Psycho Hookers From Hell, for sure. Lead singer of a group of, just as gaudy looking, musicians called Twisted Sister, yeah I guess I can see that too, but more the first one....LOL
Dee Snider sang lead vocals for Twisted Sister, who had a top 20 hit with the 1984 classic We're Not Gonna Take It. Dee is actually one of the more level-headed rock musicians. He very articulately stated his case in front of a Senate sub-committee on censorship in music.
The inventor of the internet, sorry Al Gore, but it's got to be this guy doesn't it? Lead singer of a New Wave, Synthpop band called Devo, I don't think so.
Mark and Devo had a huge cult classic hit with 1980's Whip It. Mark now hosts a children's drawing television show and is an accomplished painter.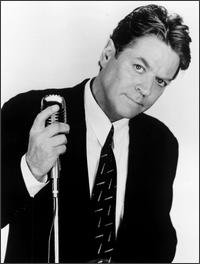 The attorney you hired to get you out of that nasty DUI mess, he's on retainer. Brilliant singer-songwriter of both solo and collaborative works, don't make me laugh.
Robert Palmer had a long and outstanding career as a solo artist and as a lead singer with groups such as Power Station. His biggest success came with 1986's #1 smash Addicted To Love. Unfortunately, Robert is no longer with us, he died of a sudden heart attack in 2003.
The two new stars of the transvestite strip club down on Bourbon St., absolutely. The two new stars of pop music in the 80's, are you serious!
I just couldn't separate these two. Boy George and Culture Club were hit machines throughout the 80's. Pete Burns and Dead or Alive were almost as successful with hits such as You Spin Me Round (Like a Record) and Brand New Lover. They've both had their problems in the 90's and 00's.
Walking anorexia awareness billboard, cut him a paycheck. Lead singer of the great rock band The Cars, not in a million years.
Ric Ocasek and The Cars were one of the best bands of the 80's. They had numerous hits throughout the decade. What I want to know is how does a guy like this get a girl like this (below). Must be the mullet.
Well there you have it. Another top 10 list down the tubes. Agree? Disagree? Leave it in the comments. Hope you liked!!!
I'll be typin' at ya later,
Bob the Blogger